From a local farm to Seismic Brewing: How Sonoma County's first all-local beer was made
Andy Hooper fills a glass with the Sonoma Estate Festbier, sourced from and processed in Sonoma County, which will make its debut Friday at Seismic Brewing Co. in Sebastopol. (John Beck/ For The Press Democrat)
September 29, 2021, 6:48AM
"Hey, nobody offered the farmer a beer?" Ron Crane yells, smiling, to anyone listening in the crowd that has assembled for what was once a widely celebrated Sonoma County tradition — the annual hop harvest.
It's 8:30 a.m. on a Thursday in a hop yard nestled in a sheep and cattle ranch south of Santa Rosa. Running back and forth between rows of comet, bitter gold, cashmere and triumph varieties, the Crane Ranch Hops grower finally takes a moment to notice that the crew of about a dozen young staffers from Seismic Brewing Co. — many who have never been in a hop yard in their lives — are all knocking back fresh-brewed helles lagers in shiny, unwrapped cans.
"You gotta have a beer in your hand on a morning like this," Crane says, after someone fetches him a can.
It's a moment worth celebrating. A few years ago, he and his wife, Erica, dreamed of planting a thriving hop yard that would flavor local craft beers. Now, it's coming to fruition in its second year. To survive the drought, they depleted an emergency reserve of 100,000 gallons stored next to an old well they tapped for the first time in decades. They'll have to start hauling water soon.
This year's crop is healthy, abundant, fragrant and loaded with lupulin, the bright gold flavor crystals you see when you split open a hop flower or cone. It marks the revival of a once-thriving local crop that had all but died by the 1960s, until a handful of local beer lovers resurrected it and started the NorCal Hop Growers Alliance.
But there's something even more special happening on this morning. Many of the hops harvested will go into rare batches of 100% homegrown beers — made entirely with local hops and local barley, all grown, harvested, malted and brewed within a 12-mile radius.
Ron Crane in his hop yard with Ted Cleveland, left, during harvest at Crane Ranch in Santa Rosa on Sept. 2. (Erik Castro/For The Press Democrat)
Never has terroir been so relevant in a beer. It's the first time this has happened in the modern era of Sonoma County brewing, and possibly the first time since family-owned pre-prohibition brewhouses in the 1920s gave way to the corporate industry consolidation of the '40s and '50s.
In Sonoma County, where it's commonplace to grow, harvest and age estate wines, local craft beer is never an estate product. Most hops come from Yakima Valley in Washington or Oregon or Idaho. And the barley often comes from North Dakota, Montana, Washington and Idaho, and as far as Canada, processed in corporate bulk malt houses like Rahr or Great Western.
Inspired to make a wet-hopped lager unlike anything he's ever brewed, Seismic brewmaster Andy Hooper is releasing the Sonoma Estate Festbier at a harvest party Friday. By mid- to late October, Old Caz co-owners Tom Edwards and Bryan Rengel hope to launch The Local, a dry-hopped Sonoma County Pale Ale made with local barley and local cascade, crystal and chinook hops. If the scheduling and malting works out, Steele & Hops brewer Justin Green plans to make an all-local IPA or pale ale later in October. And Russian River Brewing Co. co-owner and brewmaster Vinnie Cilurzo is experimenting with a few pilot batches with an eye on releasing a locally sourced, dry-hopped beer this winter.
It's the realization of a dream hatched a few years ago by Crane, a former Apache helicopter fighter pilot who returned to his fifth-generation farm, James Mahon, a former New York fashion photographer turned maltster, and a tightknit group of brewers — all on a quest to sow, grow and brew everything as close to home as possible.
In the cultlike craft beer industry, where breweries are followed like sports teams and top brewers are celebrated like rock stars, and the pursuit of freshness is an obsession. Many consumers want to know the origin story behind everything they eat and drink, and an all-local brew is the holy grail of the farm-to-glass movement. Not to mention, it leaves a super-light carbon footprint. One of the beers will be made by forklifting grain 100 yards from Grizzly Malt to Old Caz. The whole process comes full circle when you consider Crane takes the spent grains, left over after brewing, from Old Caz, Russian River and Steele and Hops to feed his cattle and sheep — the same sheep that fertilize his hops.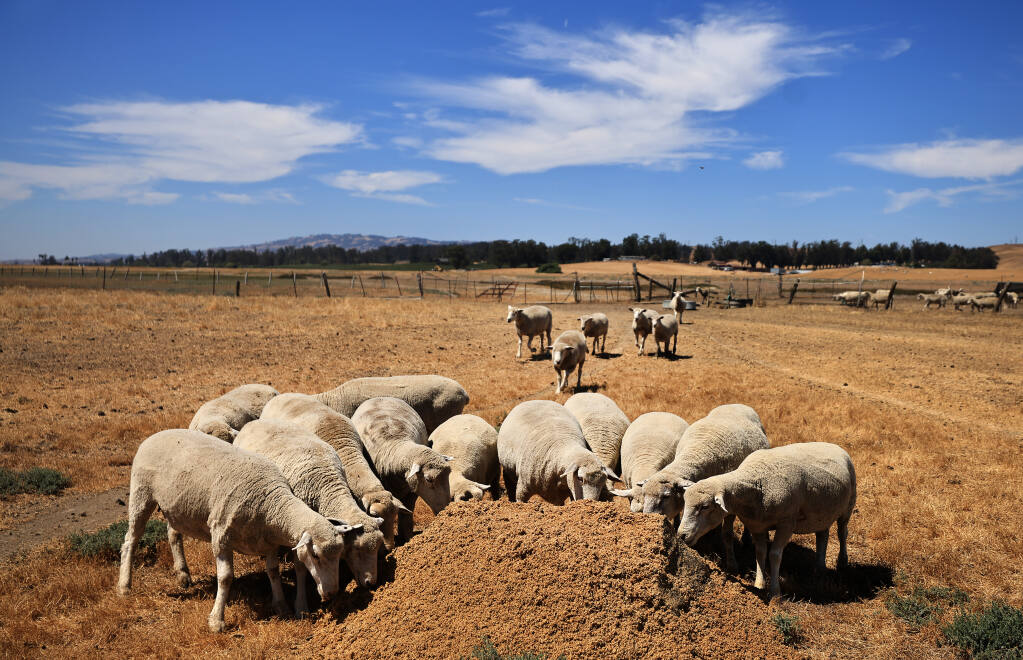 For the sake of record-keeping, it's worth noting that Nile Zacherle at Mad Fritz crafted a Sonoma County-origin beer in 2017, made with barley from Front Porch Farm in Healdsburg and hops grown at Scott Bice's Capracopia hop yard in Sebastopol, but it was malted and brewed in Napa County.
Farther afield, Sierra Nevada came out with its Estate Ale in 2008, made entirely from local Chico hops and barley, but they send their grain more than 300 miles round-trip to Admiral Maltings in Alameda before brewing. A few years ago, co-owner Kevin Smith at Bale Breaker Brewing Co. in Washington planted 20 acres of barley and created the Homegrown beer series. But he sends the grain 360 miles for malting.
When Smith heard about the Sonoma County 12-mile radius from seed to glass, he laughed.
"That's crazy," he said. "I thought we were doing pretty well by just keeping it within our state. Just the likelihood of having all those pieces of the puzzle in one area is crazy. I wonder how many places in the nation can say they have that."
At Sierra Nevada, small brands manager Terence Sullivan also was impressed.
"They've taken our Estate idea and taken it to the next level. In the U.S., they're probably the only ones doing it. I would imagine someone in Germany might be doing it."
On a smaller scale, Humboldt Regeneration Brewery and Farm owner Jacob Pressey made a 100% homegrown golden ale in 2015, which was malted on the premises, but the total yield was only one barrel of beer.
This harkens back to the early days of beermaking, when everything was done in one region, said Glen Fox, professor of malting and brewing sciences at UC Davis.
"If we go back hundreds and hundreds of years, that's how it was done everywhere, because they didn't have big transport systems. You had to work with whatever was local. In Sonoma County, it sounds like they're going back to that old philosophy. You see archival photos of malthouses next door to breweries. The reality is, this is a paradigm that we need to move back to in many ways," he said, citing environmental, economic and consumer education benefits.
In 1877, a story in the Russian River Flag newspaper described how German immigrant Carl Muller built a two-story malt house adjoining his Healdsburg Brewery, "which renders the bringing of the malt for brewing purposes from San Francisco unnecessary in the future, and we can have beer made from barley and hops grown in our own neighborhood."
A 1905 Press Democrat article about Grace Brothers Brewery mentions it used "Sonoma County's hops and Sonoma barley, combined in soothing decoction with pure Sonoma water by the use of Sonoma brains" to make a beer that rivals Milwaukee's finest. But it's unclear where the malting took place.
Jim Grace, grandson of Frank Grace who started the Santa Rosa brewery with his brother Joseph, remembers unloading 100-pound sacks of malt off train cars and into the brewery in 1958. Jim's brother, Mike, thinks by then the grain was likely sourced from the Central Valley and possibly malted in San Francisco malt houses.
Novelty of local barley
Back in late June, Crane walked through his 15-acre barley field, the knee-high stalks swaying in the afternoon breeze. Pulling a few berries off a spike of Genie barley, he turned them over in his hand. "All we need is a hot day and the right numbers," he said, looking forward to harvest.
One of the first grains planted by early settlers, barley goes back more than 150 years. But today, local barley is mostly a novelty. In the annual Sonoma County crop report, barley falls under "miscellaneous" field crops, along with alfalfa, wheat, safflower and vetch — all which together yielded only $95,200 in 2019.
Farming in Sonoma County since the 1850s, the Crane family has been raising sheep and growing mostly hay, green oats and silage on the 1,100-acre ranch off Lakeville Highway along the Petaluma River since 1972. A veteran of the second Iraq War, Crane likes taking chances.
"My father thought I was crazy when I said I wanted to plant barley, just like when I wanted to plant hops," he said. "He doesn't see why we should deviate from what we've done in the past, what is proven to make money."
In 2020, a test plot of a Tahoe variety of barley failed to reach necessary protein levels, around 10% to 13%, for malting. But on July 2, a few days after lab tests confirmed perfect protein levels of 10.6% protein, Crane got on his Caterpillar combine and harvested around 29 tons of ripe golden barley.
By Aug. 20, the first batch of 4,000 pounds of Crane's barley was steeping in water, like a grain tea, at Grizzy Malt in Rohnert Park. After spending a decade in New York, photographing for fashion magazines and ad campaigns for Levi's and Puma, Mahon followed his passion as a home-brewer to study malting and open a craft malt house in 2017. Even more rare than successfully growing hops and barley in the same region is having a local malt house within a few miles of your brewery. In the past decade, dozens of micro-malt houses have sprung up around the country, but there are only two in the Bay Area — Grizzly and Admiral Maltings in Alameda.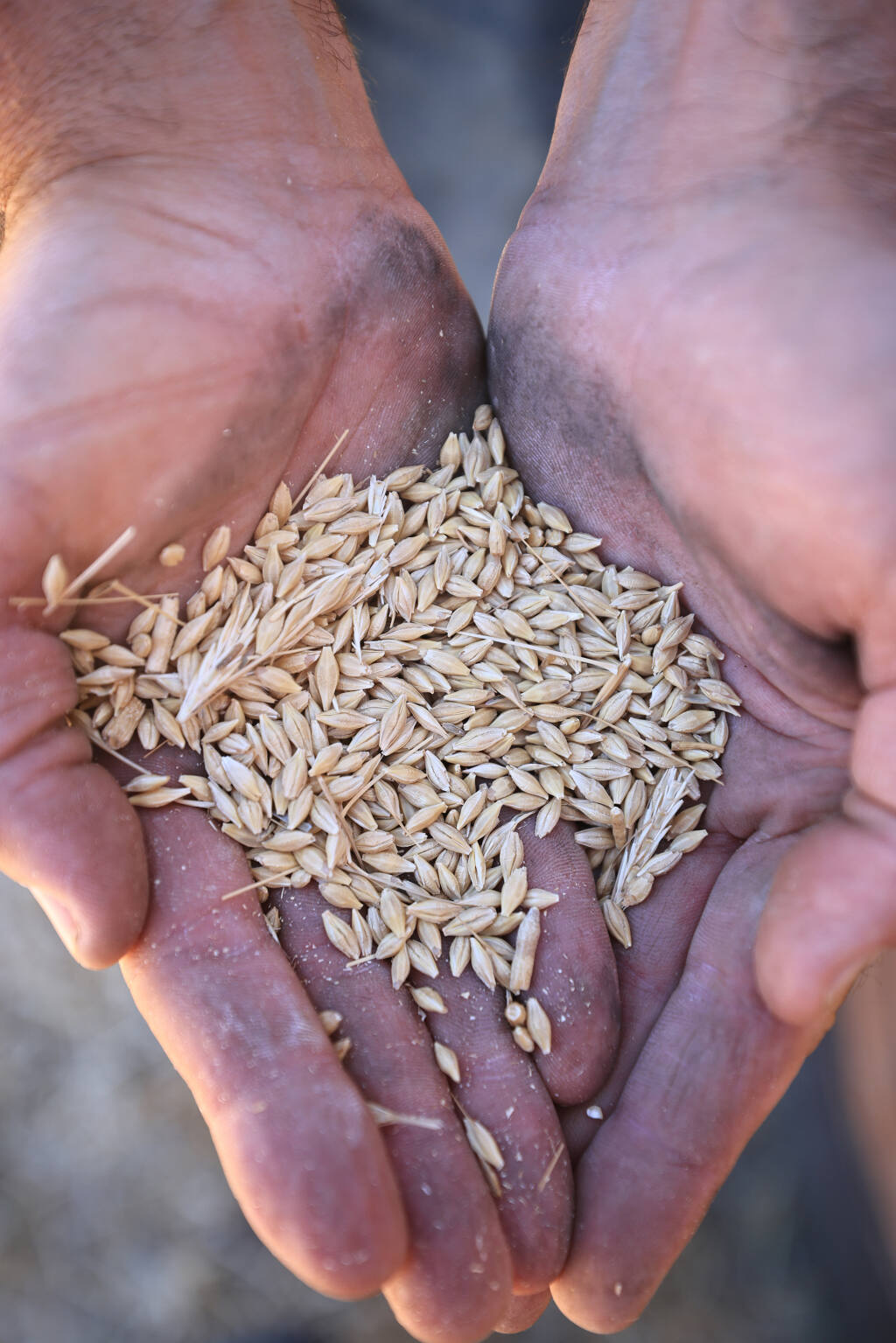 The first batch of malted grain will go to Seismic. On this day, Mahon and Hooper scooped a few handfuls of local barley from 1-ton white bags and talked about how it was hitting all the right numbers for plumpness, germination rate, rootlet growth and overall "brewability." On a catwalk, above a repurposed maple syrup tank filled with wet barley, Hooper compared the smell of steeping grain to sweet pumpkin. During germination, it will take on a fresh cucumber smell. And during the kilning process, as it's heated low and slow as high as 145 degrees, a yeasty, bready scent will turn the warehouse into a bakery.
Recently taking home a gold medal at the Great American Beer Festival for the Tremor California Light Lager — a craft version of mass-market beers like Bud Light and Coors Light — Hooper wants to make sure the all-local brew doesn't come off as a gimmick or media stunt.
"It can't be a trivial pursuit," he said. "It would be heartbreaking, but if something were to go terribly wrong, we would have to take the walk of shame and dump the beer. We're not going to push a low-quality anything on the general public and then wave a flag like we did something good."
Unfortunately, that's exactly what happened a few weeks later with the second batch of Crane's barley intended for Old Caz. A faulty drain valve at Grizzly let water seep out during the steeping process. The grain never fully germinated, and when Edwards went to brew it, optimum sugar levels were never attained and the mash grew "thick like horchata," he said. They had to throw out the entire batch — all 4,000 pounds.
Fortunately, Old Caz was able to save the fresh-picked Crane Ranch hops and brew another beer with a different batch of grain. It's why "The Local" Old Caz Sonoma County pale ale will be dry-hopped instead of wet-hopped and will come out later than originally intended.
A week later, while working on a third batch, Mahon experienced further complications and had to throw out another 3,600 pounds of grain. Running a one-man show, he attributed the loss entirely to human error and not to the local grain.
"The fault is squarely on my shoulders," he said on the same day he started from scratch on a fourth batch, intended again for Old Caz. "The barley is excellent."
Coming to fruition
Eager for hop harvest on Sept. 2, Hooper arrives at Crane Ranch just after sunrise. He splits open a comet cone, the yellow lupulin almost glowing inside. "It's loaded," he said. "That's really encouraging."
On the nose, there's a fresh scent he describes as almost resembling "peach gummy rings." Two weeks ago, when he took a sample back to the brewery for a dry matter lab test "it smelled like someone cracked open one of those bubbly waters — very fruity." He's hoping the citrus notes will go perfectly with his plan to barrel ferment part of the batch in a dozen 2-year-old sauvignon blanc barrels repurposed from Kendall-Jackson winery.
After harvest at Crane Ranch, the Seismic team drives 400 pounds of comet, cashmere, triumph and chinook to Scott Bice's Capracopia farm outside Sebastopol to separate the hop cones by feeding the bines through "The Wolf," a 1973 German hop harvester Bice and Crane purchased and imported for $50,000.
Back at Seismic Brewing later that afternoon, Hooper tries something he's never done before: freezing the hops to minus 320 degrees with liquid nitrogen and "shattering" them to a fine, super-concentrated yellow dust before adding it to the batch. He's hoping it will more pull more flavor and resin from the hops.
"We're doing a bunch of stuff that is untested, just for the sake of 'Why the hell not?'" he said. "It could all go wrong, but it's more likely it's all gonna go right. It's worth taking the chance."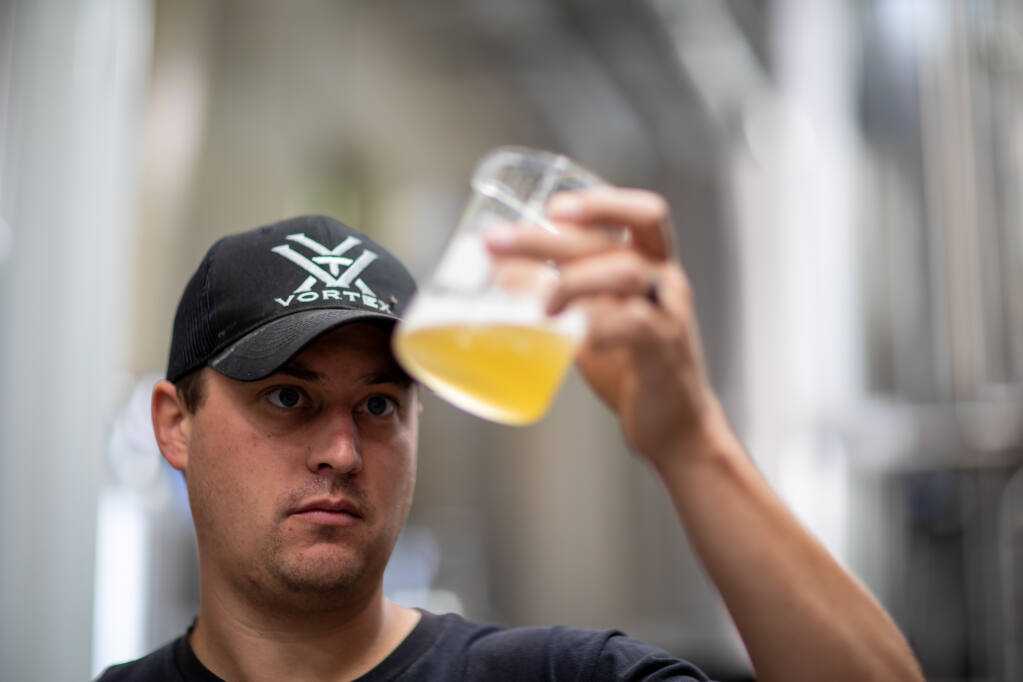 A few weeks later, on Sept. 20, Hooper pulls a sample for a taste of the young, green festbier that has been maturing in the tank for more than two weeks. Sipping and smelling from a beaker, he likes the delicate floral, citrus and "fresh veggie — more bright celery than asparagus" notes and the crisp finish. The typical festbier style is a very drinkable, not too bitter, light German lager made for Oktoberfest. This Sonoma Estate Festbier has 6% alcohol like an average festbier but more of a bitterness (30-40 IBU) approaching a pilsner.
"I'm pretty excited to finally share this with everyone," he said, grinning and swirling the light gold beer before taking another taste.
What started as a few guys kicking around a far-fetched idea several years ago has finally come to fruition.
Looking to the future, he said, "It might not be achievable everywhere, by anyone, but in rare conditions like Sonoma County, it might be not only viable, but commercially viable as well. That's the outcome I want to see — that we find some more farmers like Ron, some more places where barley doesn't just grow, it thrives. And then we have an ultra-local source — at scale. That would be great."
What: Seismic Brewing Sonoma Estate Harvest Party
When: 5 p.m. to 9 p.m. Friday, Oct. 1, and noon to 9 p.m. Sat., Oct. 2
Where: Seismic Brewing, 6700 Sebastopol Ave., Sebastopol
Information: seismicbrewingco.com
More: Look for Old Caz to come out with the 100% homegrown The Local, a Sonoma County Pale Ale (6% ABV and 40 IBUs), by mid to late October. Check oldcaz.com for the details. Steele and Hops (steeleandhops.com) and Russian River Brewing Co. (russianriverbrewing.com) both have plans to make all-local beers in the near future.
---